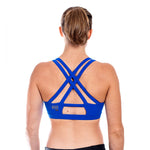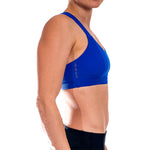 Blue HoldBreaker X Climbing Sports Bra | Comfortable Rock Climbing Bra
This product is currently out of stock.
No more discomfort - just bliss!!
The HoldBreaker X,  Climbing Sports Bra is one of a kind and unique because it was designed and developed by HoldBreaker in Sweden. The development process took over 2 years. Over 14 prototypes were made, tested and improved upon. A Focus Group of female climbers gave their input to reach the final result - a uniquely designed racer back V-shaped sports bra for female climbers with developed lats, looking for a comfortable snug fit, not tight or too restrictive and something that is easy to put on/take off.

The HoldBreaker X Climbing Sports bra is old skool quality, a rare find in the current disposable market. Made from high quality Italian fabric, soft yet durable (it passed the rock scratch test of 500 strokes with no visible stress marks on the fabric). After a full on climbing session, it will still heroically do the job because it was developed by strong female climbers who said it was a time for a sports bra that was made for their physique. 
The high-quality Italian material has a soft, luxurious, silky feel, yet at the same time offers superb support and is exceptionally hard-wearing and durable. The double-layer wicks moisture effectively and gives great all-day comfort.
The Swedish-designed product focuses on quality finishing and the simple classic cut flatters all body shapes, with the front shaped to provide definition and the cross-straps providing clean, elegant lines at the back. Great to wear everyday, comfy, excellent fit, light and supportive.

100% Money Back Guarantee.
Receive a full refund if you don't like it. No questions, no hassle, only outstanding service from real humans.
Buy ANY 2 HoldBreaker X Climbing Sports bras and get 25% OFF the second. 
Stress FREE with HoldBreaker:
100% Money-Back guarantee
Free Worldwide Shipping on orders over £100
Easy Exchange and Returns 
Friendly Customer Support
Long Lasting High Quality Product
Features: 
Swedish design
Developed by a female rock-climber
Designed by an experienced outdoor clothing designer
Prototypes field-tested by female climbers
High quality Italian fabric (abrasion tested on rock)
Unique V-shape tailored to fit developed backs
Double fabric-layer for super effective moisture wicking
Soft and comfortable shoulder straps
Exceptionally hard-wearing and durable
Great all-day comfort
For more info - click here for the HoldBreaker X Story